Welcome to Grateful Steps Foundation where ideas and voices grow. For more information, please read about our
organization
,
mission statement
and
executive director
.
Follow our newsletter for regular updates (sign up on the contact us page)
_______________________________
Hot off the press
(828) 277-0998 micki@gratefulsteps.org

Advocates come in various forms and speak in many forums. Attorneys advocate to judges, juries, and government officials for a decision in favor of their clients or causes. Individual citizens advocate before town councils and other government tribunals. Parents advocate to school officials on behalf of their children. The sick and their representatives advocate to hospitals and insurance companies for better medical treatment. The falsely accused and wrongfully imprisoned write petitions for themselves or others, seeking a second chance at justice and freedom. Friends and families must sometimes advocate to one another to change or improve the conditions of their relationships.
Jesus advocated to us during his ministry and now advocates to God on our behalf.
A common feature of all advocates is that the outcome of their efforts is not always certain, even if they believe their position is morally or legally correct. Someone else will be making the decision. But what is certain is that for every advocate there is always help and encouragement available, before, during, and after the moment one stands up to speak.
Such help can be found in The Advocate:Encouragement for those who speak out for others or themselves, by Paul B. Taylor, a former assistant U.S. attorney. He had practiced for many years as a civil litigator representing the United States and its agencies and officers.



The Advocate
by Paul B. Taylor
ISBN 978-0-9962490-7-2
List Price $14.95


Sidestepping the Pit


Suddenly, the hand that had been gently, but insistently guiding me forward clenched my shoulder with a viselike grip, and I was forced into a wooded area just beyond the church grounds. I had no way of knowing what was to come, but I whimpered, "I want to go home now."

Knight Chamberlain was nine years' old when he was raped and sodomized by a stranger in 1965. Follow Knight's confounding, surprising, and ultimately life-affirming journey to forgive his attacker and find the courage to share his story in hopes of helping others.

Sidestepping the Pit
by Knight Chamberlain
ISBN 978-0-9962490-9-6
List Price $9.95



When Wayne walked in stoned to the Warren Stanley shoe store in Orlando, Florida, one December day of 1971, he had no idea it would lead him halfway around the world to Afghanistan. Inside the store, a girl from a group called the Children of God approached him and invited him to join them. Needing more than the "peace and love" of the hippie movement of the 1960s and feeling they were in a spiritual void, Wayne and his brother joined the group, a group that gave them a purpose for living.


Many great countries later, Wayne looked into the eyes of an Arab girl, a girl who melted him and loved him like no other. Soon the love between them was all that mattered. Not their backgrounds, not their nationalities, not their religions.


About the Author

Wayne Cox left the Children of God when he returned to America in 1978. He sold real estate in Florida, landscaped in Kuwait and worked as an avionics technician on private and commercial aircraft. He and his wife and children live in North Carolina.

London to Kabul
by Wayne G. Cox
ISBN #978-1-935130-70-3
List Price: $13.95



Convict Lake: Behind the Badge


At this time when law enforcement is being judged by about every aspect of interaction with the public, wouldn't it be interesting to know what is going on when the officers get together away from work? In
Convict Lake
, fellow officers share such information around a campfire while enjoying some leisure time on an annual fishing trip. The stories are incredible and true in this creative nonfiction publication.

Humor, murder, tenderness, decapitation, fire, sadness, indifference, anger, thievery, family disputes, stabbings, shootings, riots, serial killers, and human stupidity is the world behind the badge. Journey with five LAPD veteran officers to California's High Sierra as they discuss the politics, cases, and eccentric personalities of the Los Angeles Police Department. Often heartbreakingly blunt and gruesome, you'll live and feel the gamut of police work during the height of the 60's hippie movement to present day.

Convict Lake: Behind the Badge

by Mike Krecioch
ISBN 978-1-935130-96-3
List Price $15.95
Potluck, Message Delivered: "The Great Smoky Mountains are Saved!"
In 1929, newspapermen from North Carolina and Tennessee hiked from opposite sides of Clingmans Dome, the highest mountain in the Great Smokies, for an important celebration. Although the country was entering the Great Depression, citizens from both states raised enough money to create a new national park. J.R. Horne loaned his homing pigeon, Potluck, for the expedition. After the journalists shook hands across the stateline on Clingmans Dome, they released Potluck to carry their goodwill message home. Both states had come together in a spirit of friendship to protect their precious forests. Inspired by true events, Marci Spencer records Potluck's historic flight announced the good news to waitiung crowds waiting: "The Great Smoky Mountains are Saved!"



Potluck, Message Delivered: "The Great Smoky Mountains are Saved!"
by Marci Spencer
ISBN 978-1-935130-85-7
List Price $14.95

The Journey of Carlo Martini


Carlo Martini's love of music began in childhood. He had music in his mind and in his heart every moment as far back as he can remember. When he was little, he liked to go to the movies and dream. The singers and actors became his idols. He set out on a path, not only to be a singer and actor himself but also to personally meet as many of those idols as possible. This book is the story of his success in fulfilling his dream.

The Journey of Carlo Martini
by Carlo Franco Martini
ISBN 978-1-935130-18-5
List Price $14.95




The Nog Story: A Tale about the Origin of Eggnog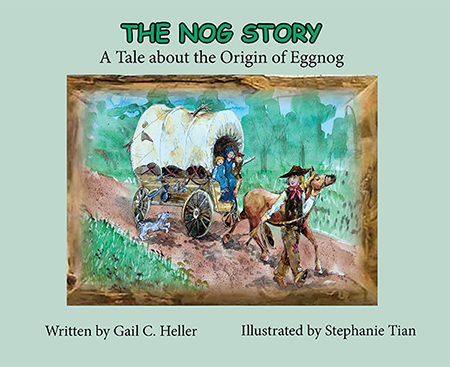 A beautifully illustrated and heartwarming folk tale about a family in Ohio raising "pods" from which eggnog is created. The book promotes imagination, annual celebration, and goodwill among friends and neighbors.

The Nog Story: A Tale about the Origin of Eggnog

Written by Gail C. Heller, Illustrated by Stephanie Tian
ISBN 978-1-945714-05-4
List Price $9.95


This That and The Third
This, That and the Third
analyzes a crime that shattered the Fayetteville, North Carolina, community in 2009 when five-year-old Shaniya Davis was allegedly sold by her mother, Antoinette Davis, to cover a $200 drug debt she owed to the man who then raped and murdered the child.

Hickman digs to uncover the difference between Antoinette Davis and herself through narrative journalism, relying on research and autobiography to weave the facts surrounding the crime into a meaningful discussion of the difference between a monster and a saint.
Davis is considered the worst type of offender with convictions including sexual-servitude of a minor, rape and murder. Hickman, compelled by the complexities surrounding the crime, attempts to understand the distance between Davis' life and her own and reaches an unsettling conclusion.

Author Abigail Hickman teaches Composition and Rhetoric at Mars Hill University and AB Tech Community College.


This, That and the Third

by Abigail Hickman
ISBN 978-0-9962490-8-9
List Price $12.95



Sign up to receive our newsletter








Computers kindly donated by